Welcome to FlyTyingForum.com

FlyTyingForum.com is the largest fly tying community in the world and we hope you take a moment to register for a free account and join this amazingly friendly and helpful group of anglers. FTF has over 12,000 registered members that have made over 300,000 posts and have uploaded over 6,000 patterns to our exclusive fly pattern database!

If you are an experienced fly tier or just starting out FTF is the perfect place to call home. Click Here To Register for a Free Account
Write the recipe
Started by
flytire
,
Sep 03 2019 09:14 AM
Posted 09 September 2019 - 08:59 PM
thanks mark for the photo
The fish care less than we do!
---
Posted 09 September 2019 - 09:23 PM
Not really happy with this first effort:
Dumbells back too far from eyes
Gill band too thick
Hook size/proportions wrong, but its all I had 
Overall too busy of a tie
 
With macular degeneration I have trouble with tying these days - let alone take a picture
 
Open for critism
 
Thanks
Doug
Thanks Doug.
This fly was a challenge for me as I'm sure you can attest.
That said I think yours looks good and it's up to the task.
Since you are using dumbell eyes I would put the belly on top and the over wing on the bottom.
I catch myself doing the same thing from time to time.
Mine is open for critism as well.
Harry
---
Posted 10 September 2019 - 06:20 PM
here is my final version
beady eyed minnow (for lack of an original name)
i omitted the brownish cheeks shown in the original photo. i dont think the fish will even know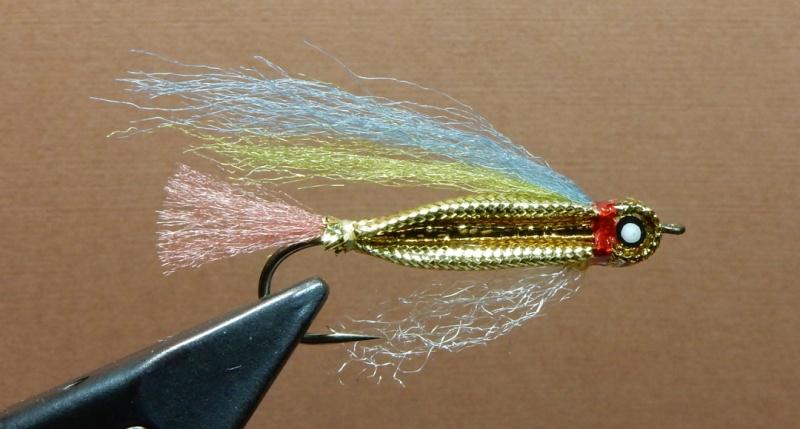 i did use a gold crimp bead in the head area
The fish care less than we do!
---
---