Pretty slow out on the water today. Had one chance all day on a nice smallmouth that took my bugger short and left me wishing I had tied the tail in shorter or I had a trailing stinger hook. Saw some articulated buggers somewhere and decided to sit down on the bench and come up with something that incorporated colors and materials that worked in my waters and also something I could throw into the nastiest snag strewn places. Fianally, I wanted a tried and trusted pattern I was confident I could tie. 
Hooks; TMC 5263 #4 x2
Tail; Marabou Burnt Orange
Flash; Crystal Flash Rainbow
Body; Dubbing Blend; Rabbit Burnt Orange, Angora Goat Brown, Melty Yarn Black, Ice Dub Brown Olive 
Hackle; Spey Hackle; Grizzly Dyed Orange
Rib; 3x mono tippet
Legs; round rubber medium orange barred
Eyes; Black bead chain medium
Intruder wire
3mm. glass beads x 3
Weed guards; Hard Mono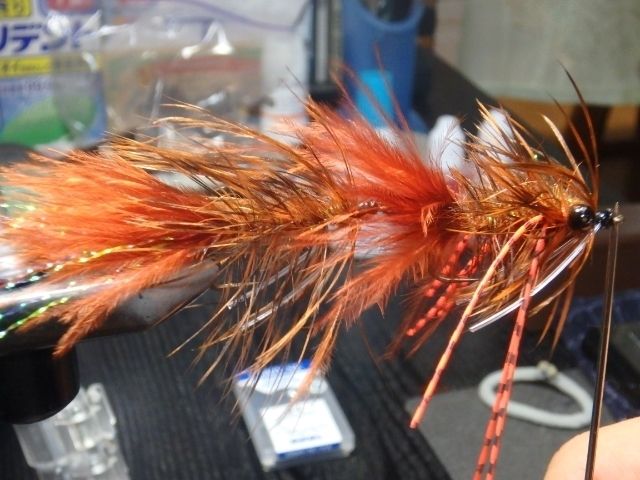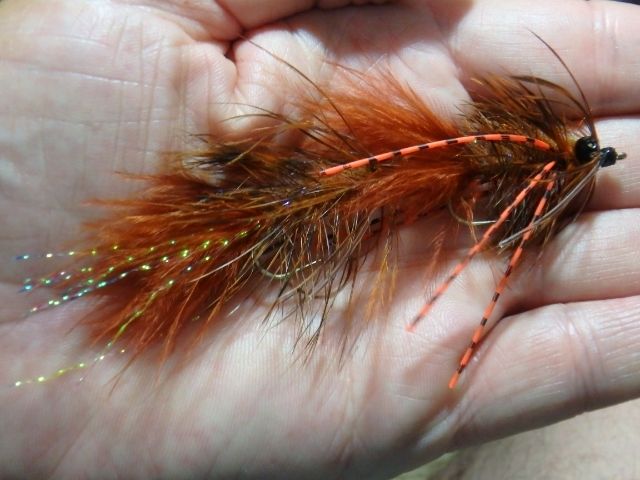 This should give the smallies quite a mouth full!!