after seeing a really cool pic that another angler took of a March Brown recently hatched perched on the winding check of his fly rod, I could see some details I never caught before...the colors of the wing and body...plus the posture...in particular the arched back...
I know this is something that has been around for a long time...but it was a new look for me at a bug I have tied a lot...
and its a perfect time to have some of these...St. Patty's is always a time these start to do their thing where I fish...
plus making a bug that is simple and fast is important too...these flies get treated pretty rough , and spending 20 minutes on one of the fancier deer fur bugs is cool...but to have one you can "crank out" is good too...because its gonna only get used once more than likely...
plus  found some use for some bufflehead feathers a friend gave to me...they were a perfect match for the bug I saw in that pic...as were some turkey fan barbs for the tail and body section...
and I just used a generic rooster hackle for the float and wings...
I took this out and pitched for a while to see how it landed...then tok a few pics in a sied pool for some to post...and get a better look at what it looks like up close...digital cameras vcan really help me alot to see what I am geting out of my vise...
I tied this with a #16 nymph hook I tried some on standard dry fly hooks too, but they didnyt get the tail down enough for the effect I was looking for...the longer bent hook did the trick...here are  afew pics..t
after looking at the pics on the compiuter, I think it could use a few small barbs or something for some nose gear..(antennae)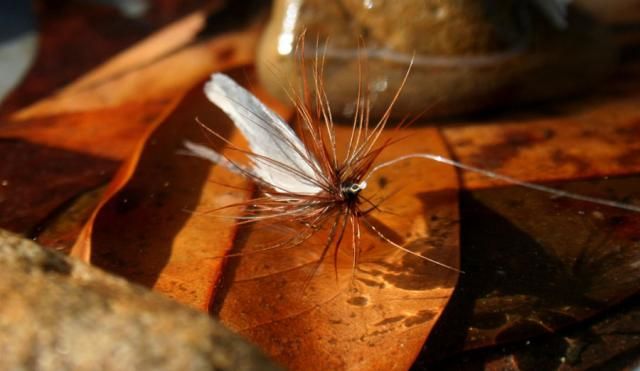 size 12-16 nymph hook...bronze is preferable
turkey fan barbs for tail
brown buffalo wool for dubbing
(1) pair of gray bufflehead feathers for wings
ginger or brown rooster hackle ...
I used some flat nylon brown thread...it tightens down a bit better...and the paired wings need all the help they can get...